The Healthy Snack Subscription Box
How our subscription works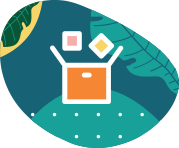 Select your plan and box type
Choose from full-size or mini and customise to your personal dietary needs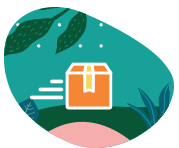 Select to receive a box straight away or wait until the next shipment date on the 10th of the following month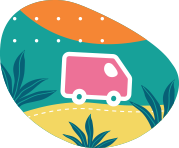 Enjoy fun, healthy snacks, delivered
Relax knowing you have snacking sorted – a great range of healthy, delicious snacks delivered to your door full of surprises! 
Say goodbye to boring supermarket selections and start discovering healthy, delicious snacks!
Buy a one off Treat Trunk 
Keep yourself healthy and happy with our nutritious and delicious selection of snacks
I still find Treat Trunk the most cost effective way to purchase alternative, healthy treats – to buy them individually from websites or supermarkets is definitely more expensive. It also helps me to keep my indulgence under control by limiting what I have to hand
Great treats and great customer service, I've tried a dozen different snack/treat boxes in the last few months and if I could only recommend one, it would be Treat Trunk. ⭐️⭐️⭐️⭐️⭐️
As a Nutritionist who works with kids and young families I was so delighted to be introduced to Treat Trunk. A snack box full of healthy goodies. Ideal for those times when you need to grab and go or as an after school snack or for the packed lunches. Brilliant company ethos and great value boxes. I've been having a rave about them on my social media. Keep up the good work Sally, the boxes are fabulous. 💕 ⭐️⭐️⭐️⭐️⭐️
There are so many brands that I recommend to my clients already in this box. It's a great deal pricewise and we love having these options in the house. I'd much rather the kids grab a snack from the trunk than grabbing processed junk on their way to clubs.
We always look forward to getting our Treat Trunk every month. It's always exciting to discover new snacks, some of which have become family favourites, and it's so convenient getting them delivered to our door. As a mum, it's also great to know that all the snacks have been carefully chosen to make sure they are healthier choices. There is also a great balance between snacks to grab and go on busy days and more indulgent treats to savour and enjoy.
Everything about the treat trunk is fantastic, the snacks are varied, exciting and delicious! The boxing and packaging is super, I loved the tissue paper and the little stickers, postage was also very quick. Sally is so friendly and helpful, at answering any questions etc. I can't wait to try more of the snacks. The fact that they're all vegan and healthy is a real bonus as that doesn't take away from the amazing taste!
I absolutely loved my first Treat Trunk box! It was really fun opening the carefully packaged box and discovering new snacks. I particularly liked the savoury selection and the roasted split peas were my favourite! Although I don't have a family to feed the big selection was ideal for me - I often get hungry before I go to the gym in the evenings and having a quick healthy snack before a workout gives me the boost and willpower I often need! Top marks! ⭐️⭐️⭐️⭐️⭐️
I love Treat Trunk as I can get yummy healthy snacks I can't buy myself in sweet shops. I used to have major tummy issues but that's gone, I feel happier and can manage my weight more easily. I also love to have these snacks in my locker for tuck evenings at boarding school, all my friends are jealous!
I was so surprised at how much had been packed into the box. Really great value for money. My husband was sceptical but now both he and I agree that this is money well spent. I have more time doing other things rather than scrutinise ingredients for nasties.
The packaging is so tasteful, and it feels like such a nice treat opening it up with my daughter. There are lots of brands included that I have never seen before, really looking forward to trying them. Also, my partner is running a half marathon on Sunday....some of these snacks will be perfect for afterwards.
What a perfect box of treats! My whole family adored everything we received in the box and even my very fussy 3yo had a ball choosing not only healthy but very yummy goodies. There was something for everyone in the box and it broadened our knowledge of really high quality and healthy snacks that we
Who can benefit from our boxes?
Anyone looking to make a change in how they snack, to feel energised, sleep better and lose the junk-guilt.

People who want to eat healthier but don't have time to create homemade real food treats
People with busy lifestyles, always on the go, looking for healthy office nibbles & energy-boosting snacks.
Those who want to support their health and fitness goals
Sugar addicts looking to control cravings and still enjoy treats
People with an illness at home or in hospital to boost their immune system, lift spirits and aid recovery

Busy mums and dads with 'always hungry' children.

Parents wanting to choose healthier treats for their little snackers – convenient, nutritional lunchbox fillers, after school and on the go snacks.

Pregnant or new mums looking for convenient, easy grab power snacks to fuel labour, breastfeeding and all the postpartum demands as well as increase nutrition for mum and baby.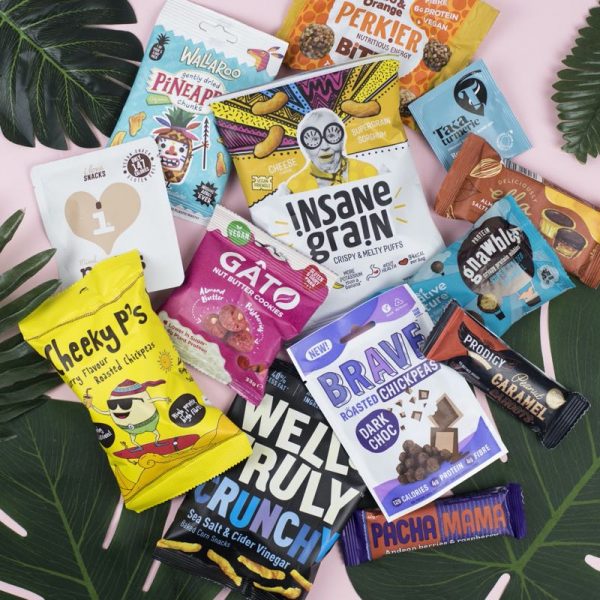 A carefully selected variety of healthy vegan treats
Snacks customised for your dietary needs

Immune boosting, fun and delicious snacks

Snack solutions you've never seen before

High energy, nutritious snacks to fuel you

Optional sticker personalised with your names