Looking for some healthy snacks for busy days juggling work, family and friends? Today, we're sharing some of our favourite healthy snacks for busy days when you don't have a chance to be tied to your kitchen. Not only are these super healthy nibbles but they can be made in advance (in batches if you prefer) and snacked on throughout the week. However, if you don't feel you have time to make healthy snacks for busy days, do checkout our sourced healthy snack box subscription; which is designed to take the stress out of sourcing health nibbles and snacks-we do all the hard work for you! 
1. Healthy chocolate truffles
These healthy chocolate truffles are the perfect snack packed with nutrients. Mixing dates, ground almonds, and cocoa, these really taste rich and decadent yet they're vegan, gluten-free and free from refined sugar, which helps lessens blood sugar spikes. Adding protein powder to them will help you feel full for longer and this is the perfect snack for your gym bag or a family picnic.
2. Superfood Brownie Bites
You'd never believe these moorish brownies were packed with superfoods, as well as being gluten and dairy free! A mix of dates, sultanas and almond flour, these brownie bites require zero baking and are great to store in the fridge.
3. Healthy Apple+ Blackberry Crumble
This gluten-free crumble is another great snack option: packed with seeds, fruit and using gluten-free coconut and almond flour too. This crumble is a great way to use up leftover fruit and it just takes a few minutes prep.
4. Healthy Chocolate Paleo Brownies
This paleo-friendly recipe for healthy chocolate brownies is SO easy and balanced in nutrients with plenty of protein. Ground almond and flaxseeds add a fibre whilst the sweetness comes from coconut sugar, which is a healthier alternative.
5. Sugar Free Chesnut Pancakes
These paleo-friendly vegan Chesnut pancakes work just as well for breakfast as they do an afternoon snack. Chestnut flour isn't often used in pancakes, but it is packed with nutrients and a high-fibre flour. Serve with our suggested berry compot or a topping of your choice.
These nut butter cups use only four ingredients: peanut, chocolate, ground almond, and sea salt.  They take five minutes to prep and five minutes to cook, then just store in the fridge to snack on as a healthy nibble throughout the week -if your willpower can last that long!
Who would have thought Tahini could work as a dupe for mylk chocolate? This healthy nibble is a great way to add things like nuts and figs into your diet-which are rich in fibre, vitamins and minerals. Just melt and leave to cool in the fridge.
8. Chocolate Quinoa Brownies
Quinoa in a brownie? Yep you've read that right! Quinoa flour is a great gluten-free alternative. This brownie mix is a great idea for busy days- all the ingredients can be found in your store cupboard and they last for days!
9. Healthy Chocolate Mousse
Mixing coconut yogurt, bananas, nut butter, and cocoa powder this gorgeous chocolate ice cream/mousse is perfect to keep in your freezer and defrost for busy days. Add super green powders or protein powders to make it even healthier.
10. Spelt, Pumpkin Seed, Apple+Carrot Muffins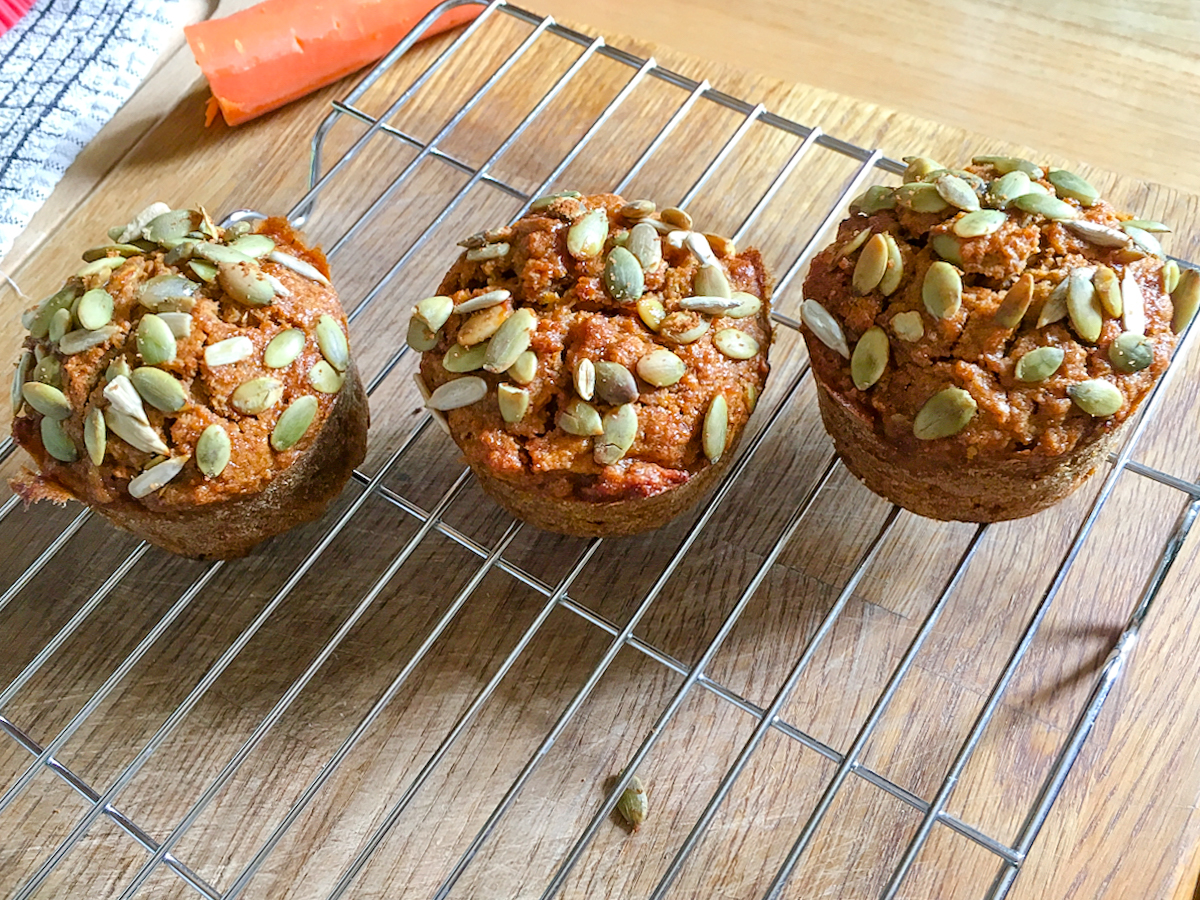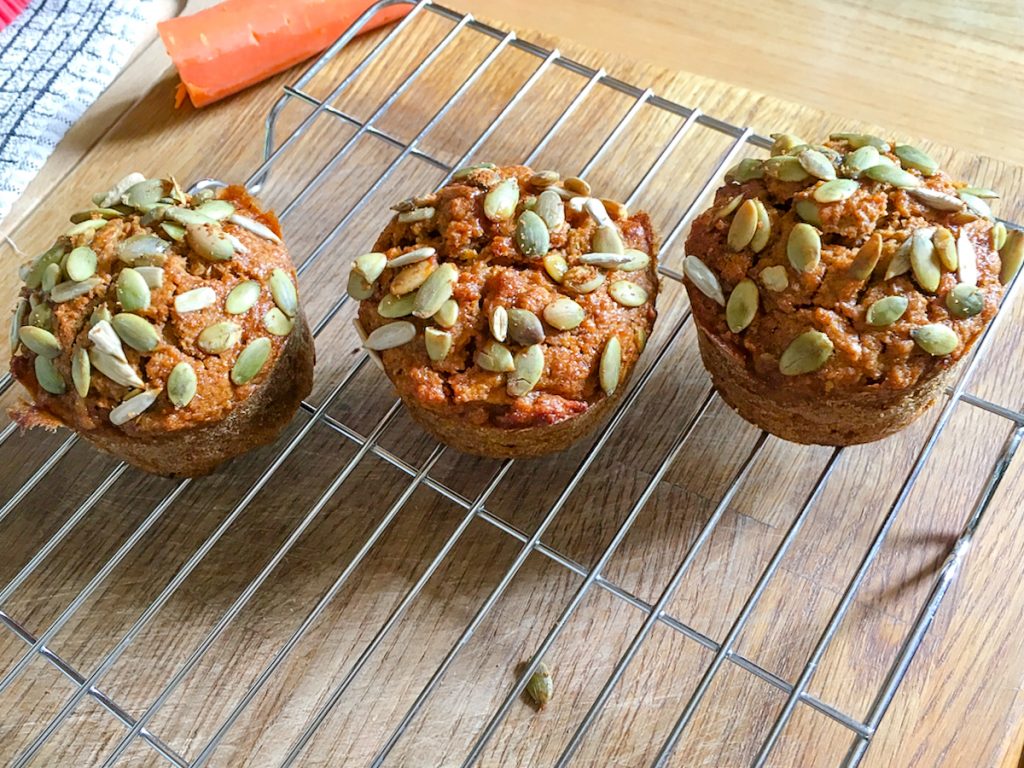 These spelt muffins are perfect for breakfast or elevenses on the go; as well as being another sneaky way of getting some veg into treats. 
They'd be great to pack in lunchboxes for school too – they are filling and healthy yet kids will still enjoy them!   Spelt is a great base and it's wheat free too, whilst this recipe also uses carrot, apple, pumpkin seed and carrot for a deliciously sweet yet healthy muffin.
Need help finding healthy snacks but don't have time to prep them yourself?
Don't forget to check out our healthy snack subscription box, which sources healthy, nutritionally-balanced vegan-friendly snacks into one handy snack subscription!