Gut Friendly Grilled Aubergine Salad
This salad makes a great lunch or supper in the hot months and is also a great addition for your barbeque. All ingredients are plant based. Aubergine is great for your gut as it's full of fibre whilst activated nuts are a great vegan source of healthy fats and protein.  For the dressing, add nutritious tahini and olive oil; both a great source of heart-healthy fats. Or use any store-bought salad dressing or simply a drizzle of olive oil instead.
This recipe is from nutmad– an activated nut brand that you can find in this month's edition of our healthy snack subscription box.
Make The Gut Friendly Grilled Aubergine Salad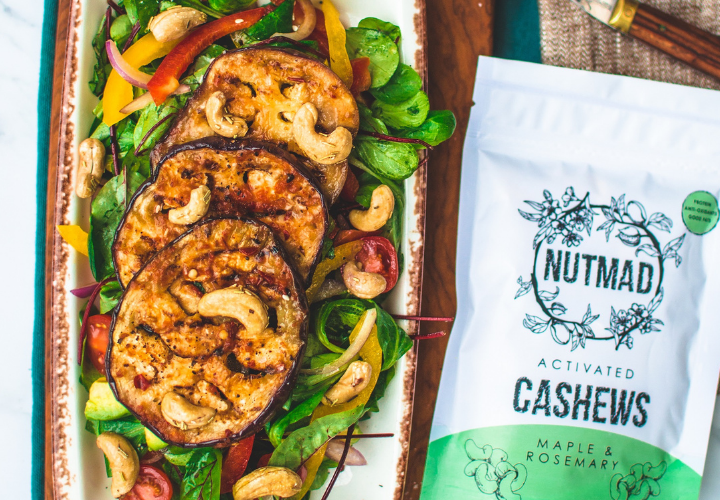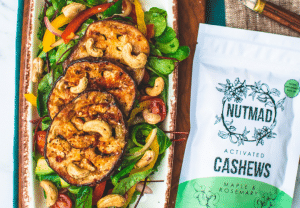 A delicious plant based dinner that's great for being gluten and dairy free as well as summer picnics and BBQs!
Prep Time

5 min

Cook Time

10 min

Total Time

15 min
For the salad
A bag of mixed leaves salad 
1 yellow or red bell pepper (or a mix of both) 
A handful of Nutmad Activated Cashews, Maple and Rosemary
For the dressing
Tahini (optional) and  Honey (optional)
1
 Preheat the oven to 200C, and slice the aubergine in 1cm thick rounds.
2
Place them on a tray with baking paper, sprinkle with salt, brush with some olive oil, and bake it until soft and golden
3
Check every now and then with a fork, it takes ca. 30 minutes.
To make the dressing...
4
Mix equal parts tahini, olive oil and lemon juice until it's smooth without any lumps. Add some salt and pepper and if you need a tiny squeeze of honey
To finish
5
Scoop the avocado out of the skin and slice it. If it's ripe it will come off easily.
6
Slice the bell pepper in thin slices. Ideally use red and yellow to make the salad look nice and colourful.
7
Wash the mixed leaves if needed and cut the cherry tomatoes in halves.
8
When the aubergine is ready, let it cool down for a bit. Mix the salad leaves, peppers, cherry tomatoes and peppers in a bowl and season with the dressing. 
9
Place the grilled aubergine slices on top and finish with the maple and rosemary cashews.