I whipped this healthy apple & blackberry crumble up after a spontaneous blackberry picking session with the kids.  They insisted I use them to make a pie so here are the results!  I added lots of bonus healthy ingredients to this family favourite like nuts and seeds to make it really nutritious.  It's a really adaptable recipe so use what you already have – or what you know your kids like!  I also used coconut flour for a naturally gluten-free apply & blackberry crumble.  You can use butter, or for a dairy-free version use coconut oil.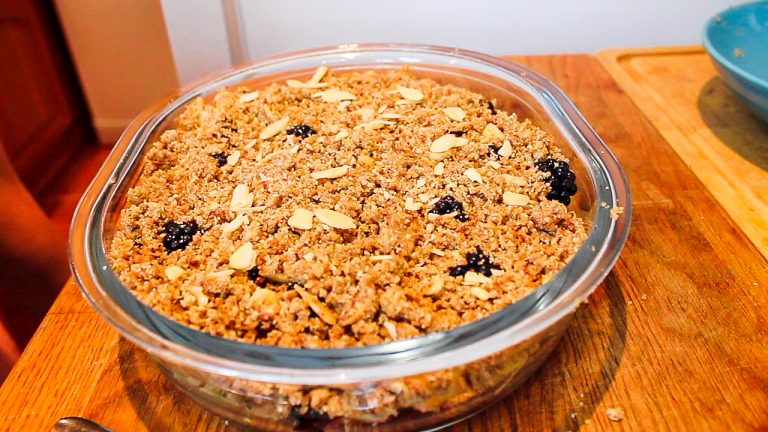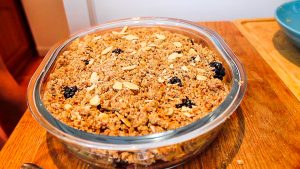 I made a video of it too if you prefer to watch! But the actual measurements are in the recipe below.  Enjoy!
Healthy Apple & Blackberry Crumble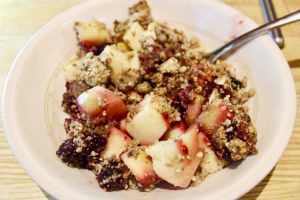 A simple, nourishing, healthy version of a British favourite.
Prep Time

15 min

Cook Time

45 min

Total Time

1 hr
Ingredients
4 Medium Apples You can add more or less if you like!
Blackberries Add as many or as few as you like!
1 Tbsp Shelled Hemp Seeds
2 Tbsp Coconut Sugar You could use 1 Tbsp if you want it less sweet
2 Tbsp Butter or coconut oil
Instructions
1
Peel the apples, core and chop into bitesize pieces. Add to a baking dish with the blackberries.
2
Put the rest of the ingredients into a bowl and mix together with your fingers until you've made a crumble.
3
Push topping onto the fruit and bake for 45 minutes at 160 Celsius (140 fan).
4
Serve with coconut yogurt for a delicious, nutritious snack!
Video