This healthy chocolate ice cream is my new obsession.  It's the perfect meeting of health and indulgence.  The silky smooth, creamy chocolate goodness feels so naughty but is a far superior choice than Ben and Jerrys.  I'd choose this any day but I usually can't be bothered to make it.  Hence buying these amazing ice cube trays!
I severely under calculated how much you could get into these bad boys as I only filled 7 of 1 tray! (I bought 2 trays). I probably could've filled the 8th but I had to eat some as mousse there and then.. obviously.
I'm going to double the recipe next time but feel free to adjust the quantities for what suits you! I rarely measure when I make this and it always turns out lovely.  You can also use normal ice cube trays – it would probably blend a lot easier.
Or for less fuss just eat it as a mousse – it's super delicious both ways!
A normal blender/food processer/handheld mixer should combine the ingredients well enough to enjoy as mousse but you'll need a high speed blender like a Vitamix to blend the giant ice cubes. Something like a Nutri Bullet would probably do it too and is a lot cheaper and smaller.
If you are turning it into ice cream I would only freeze for a few hours, or if freezing overnight, leave it out on the side to defrost for 30-60 minutes before blending.  You WILL need a high speed blender for this.  You should be able to get the ice cubes out OK if not completely frozen but if they're tricky to get out just run the back of the tray under warm water.
To fill the tray perfectly I would just put a little less in each one and use the whole mixture.
I'm a huge fan of greens powder.   It's basically an awesome, high quality multivitamin which covers everything you could want you or your children to have.  I don't stress at all about mealtimes anymore.
I added cacao nibs on the top for crunch but you can definitely leave them out or add nuts or other crunchy goodness for texture.
The probiotics in coconut yogurt are great for your microbiome and they don't die when frozen so with the greens powder this is a super healthy dessert.  Obviously it still has coconut sugar in it so don't eat the whole batch in one go but coconut sugar is low GI, full of nutrients and is balanced with the fat and protein from the coconut yogurt and nut butter.  But let's be honest, even if you did eat the whole batch it's still way better than polishing off a tub of B&Js.
The second batch I made actually came out more ice-creamy but I didn't film that.  It's definitely more soft serve style ice cream but because it's so thick it holds together wonderfully.
Here's the video from my old vlogging channel I made of me making it.  If you'd prefer the printable recipe, keep scrolling!
Healthy Chocolate Ice Cream/Mousse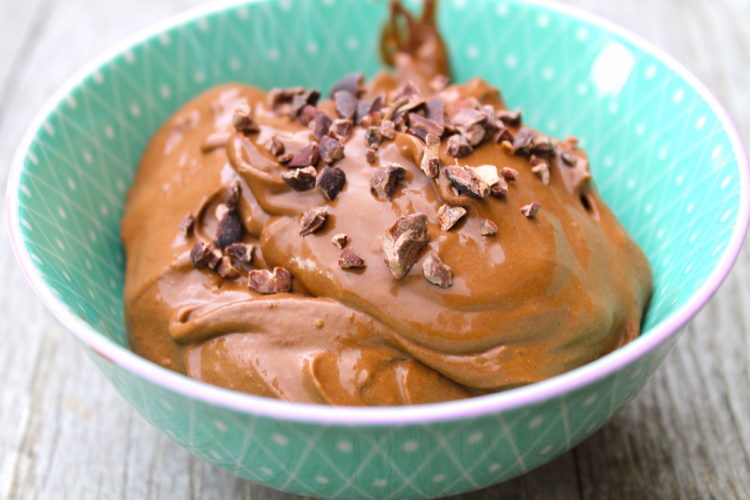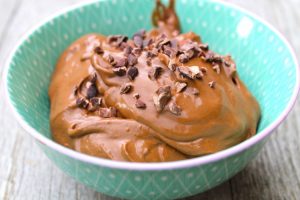 A nutrient rich, decadent silky smooth mousse or ice cream.
Ingredients
400g Coyo Natural Coconut Yogurt The big tub
3 Bananas frozen or unfrozen Frozen if enjoying as mousse there and then unfrozen if freezing for ice cream
3/4 Cup Cacao/Cocoa Powder
1/4 Cup Coconut Sugar Add more if you prefer it sweeter
2-3 Tbsp Nut Butter Any but almond works particularly well
1 Tbsp Greens Powder Nuzest (or any brand) (optional)
1 tbsp protein powder (Nuzest or other brand) (optional)
Sprinkle of Cacao Nibs For crunch! (optional)
Instructions
1
Add all the ingredients to a blender and blend until smooth.
2
Either eat straight away as a mousse, refrigerate to eat later as a mousse or fill the ice cube tray with mixture and freeze.
3
If turning into ice cream, I'd advise only leaving it in the freezer for a few hours. If left overnight, leave it out on the side to defrost for 30-60 minutes so it blends easier. You can also add a little almond milk if your blender struggles.
4
Blend until desired consistency then sprinkle on cacao nibs if using and enjoy!
5
Make sure to share with your whole family for a nutritious treat!