This healthy ice cream is so fresh, delicious and easy and contains sneaky vegetables – my favourite kind of dessert!! I gave this to my 2 year old for dinner tonight as she had a late lunch and was asking for ice cream. How wonderful to be able to break the rules occasionally and still know your children's bodies are getting what they need. She did have some scrambled eggs a bit later before bed.
The servings are pretty arbitrary – we got 4 bowls out of it but you could have 1 big bowl or a small bowl and put the rest in the freezer.  When you want to eat it again just chuck it back in the blender to make it ice-creamy again.
The added sweetener is totally optional – you can use any natural sweetener if you don't want to use honey, for example to make it vegan or give it to a baby under 1. Or you can just omit the sweetener. I added a teaspoon of local, raw honey as we're all very sniffly and raw, local honey is great for colds and allergies.  Hubby said he would have added 2 teaspoons so it depends on your preference.
Another huge benefit is that it includes probiotics from the coconut yogurt which also helps your immune system among their many other benefits.  See this article here if you want to learn more about the benefits of probiotics.
These are the 2 bags of frozen fruit & veg I used. You can use whatever ratio you want but I added 2 parts fruit & veg mix to 1 part fruit mix. You could just use 300g of the Sunshine fruit & veg mix but I was worried it wouldn't be sweet enough. I thought the ratio worked out perfectly but maybe play around with it if you're not sure.
I made some really yummy healthy strawberry ice cream the other day too that the kids loved so will post a recipe for that soon too.
I'm not sure if this would work in a standard blender – you could give it a try by opening the lid and manually stirring the mixture around then reblending.  Or buy a Vitamix – it's the best purchase I ever made!
Sunshine Fruit, Veg and Coconut Ice Cream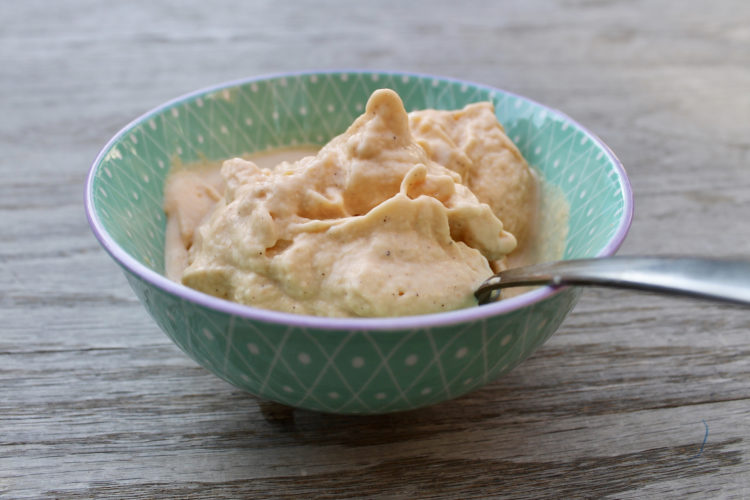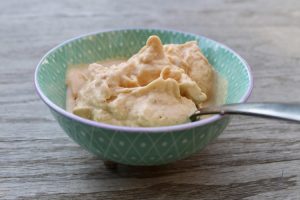 A fresh and simple summer fruit and vegetable ice cream which is great for colds and allergies!
Ingredients
150 Grams CoYo Coconut Yogurt I don't advise using the Coconut Collaborative one
200 Grams Waitrose Sunshine Smoothie Mix Frozen
100 Grams Waitrose Tropical Fruit Mix Frozen
1-2 Teaspoons Honey or vegan sweetener Optional and preferably raw, local.
Instructions
1
Add the coconut yogurt to the Vitamix then add the fruit & veg mix and honey. Use the tamper and blend until smooth but firm.