These healthy chocolate truffles are so decadent they taste like they should be really naughty but assuming you don't eat the whole batch in one day (which is tempting to be fair) they're really little power houses.  The macros are balanced which lessens blood sugar spikes (which causes you to crave more sugar later) and the ingredients all have benefits.  I would rather eat 1 or 2 of these and feel full and have had a protein hit as well as amazing taste than a standard chocolate bar that just creates more addiction, messes with your hormones, takes the place of nutrient dense food and encourages you to eat more.
I'm trying to turn fat into muscle and standard chocolate bars would do nothing for that.  These can support me on my journey, however. The only sweeteners are dates and coconut sugar and I never go over the top with sweetness, even natural, as that's not healthy either.
I used a Vitamix so I can't say how they'd get on in a standard blender but I'm sure they'd go round a food processor OK. If you need more water to get them moving, add small amounts bit by bit so you add the very least amount you need to get it going.  Then compensate by adding more ground almonds. If you are worried about losing sweetness you can add some liquid sweetener like honey, maple syrup or coconut nectar.
My 2 year old really enjoyed helping make these – from making the balls to dipping them in the melted chocolate so it's a great activity to do with the kids and it teaches them about using real ingredients.
I saw a video where a guy used cocktail sticks and polystyrene to stand them all up after dipping in chocolate but I didn't have any polystyrene so I improvised with bananas! We ate them straight after so no bananas were wasted in the making of this recipe. Next time I will use my set of stainless steel skewers though as I couldn't reuse the cocktail sticks like I thought I'd be able to.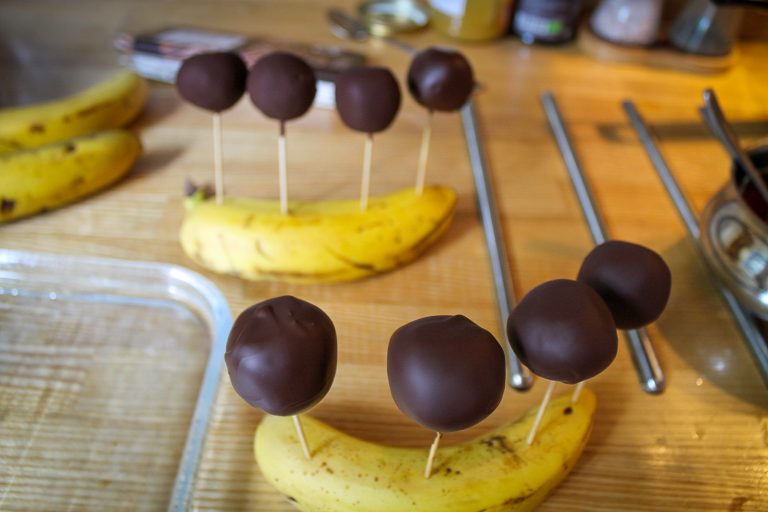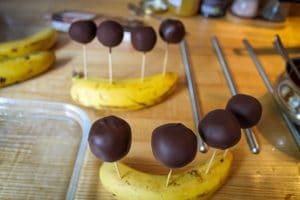 Once the melted chocolate has hardened on (a quick trip back to the freezer should ensure it's fully solid again) you can use a finger to dab chocolate onto the hole the cocktail stick/skewer made so that they're completely covered in chocolate.
My family are sometimes fussy with my healthy treats but every single one of them adore these. They don't last long! In fact When I came down next morning to photograph the final product I found 4 missing!
I'm really excited to start creating some interesting variations and packaging them up beautifully as Christmas presents!
Let me know if you try anything exciting!
Healthy Chocolate Truffles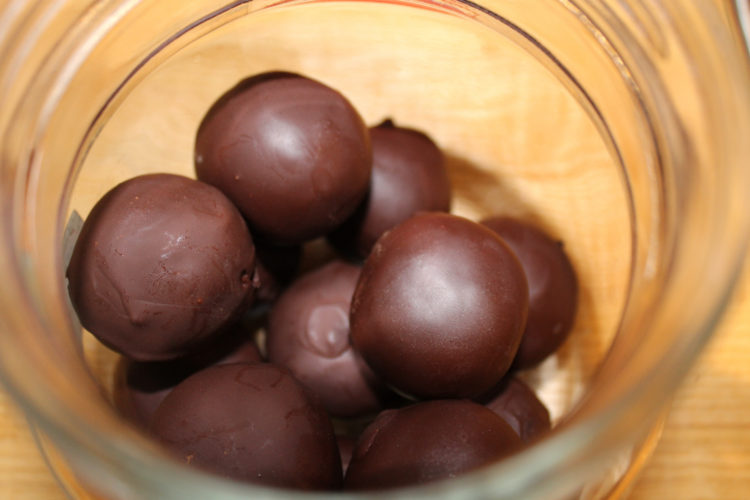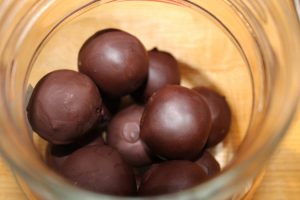 An exquisite, decadent but guilt free truffle
Prep Time

30 min

Total Time

24 hr 30 min
Ingredients
1 Cup Ground Almonds/Almond Flour
1 Scoop Nuzest Vanilla or Chocolate Protein Powder Or protein powder of choice
85g Bar Vivani 92% Chocolate Or other healthy chocolate alternative
Instructions
1
Add 1/4 cup filtered water to 250g dates and get as smooth as you can in the blender/food processor. You might need to give it a stir halfway through to dig up any big chunks stuck at the bottom.
2
Add all ingredients to a bowl and form into 16 balls.
3
It will be easier to coat the truffles if you melt a whole 85g bar of chocolate, you can always coat frozen bananas with the excess or dip strawberries. Yum.
4
Store in a glass jar in the fridge.