This healthy thick chocolate smoothie is one of my favourite snacks to have and is perfect for that mid-afternoon chocolate craving.  I count this as one of my meals as I prefer to have 4 or 5 small meals instead of 3 large.  I have steadier energy and I don't get as bloated.
Instead of your energy levels dropping though in the dreaded afternoon slump this actually perks you up.  The greens powder is awesome for energy and nutrients.  My kids love this milkshake/smoothie and I feel great knowing they essentially just had the most amazing multivitamin known to man.
I usually split this with my little girl while my son is at school but if he's home I split it into 3 or increase the quantities. If hubby is home I double the recipe.
Apologies if you prefer ml to oz but I fill up to the 10oz line on my Vitamix and that's the perfect amount, I find.
I like Pip & Nut's almond and coconut milk or rude health almond milk for this but you can use any milk you like.
The bananas, I just break a few bananas in half, lay on a baking tray so that they're not touching, freeze, then put into a bag in the freezer. You then have them ready to go whenever you need a quick smoothie.
The protein powder I use is Nuzest pea protein.  You can use any protein powder but I think this is the best one, nutritionally and taste-wise.  I did buy the chocolate one but now I just get vanilla as you can use it as a base with any flavours then.
Don't skimp on the cocoa powder – the rich chocolately-ness is what makes this so luxurious.  Cacao is better as the bean hasn't been heat-treated and therefore still as all the enzymes, antioxidants, vitamins and minerals intact.
You can skip the spinach but you really shouldn't. You can't tell it's in there and it's so satisfying to know you're getting a hit of micronutrients in a chocolate treat.
Depending on how much sugar I've had that day I'll decide whether to add dates in or not but it is so much better with. Just make sure there are no stones left in them as it can damage your blender (and get stuck in your throat/teeth!) Medjool dates are easiest as you just take the stone out before popping it into the blender.
Chia seeds – oh sweet, sweet chia seeds.  I love these little things. They're a great weight loss food and full of good stuff.  I'm not a big fan of them gelatinous like in chia pudding so prefer to add to smoothies.  Just make sure to drink enough water before and after if adding as they will soak it up. These are an optional extra so don't worry if you don't have them or want to add them.
I've only done this in a Vitamix which is a high-speed blender so I'm not sure how well it would all blend in a normal blender. I reckon it would work fine but please comment and let me know! A Nutribullet would be great too and it's a lot cheaper.
You shouldn't have any 'bits' in it. It should just be a thick lovely smoothie reminiscent of the lovely thick chocolate milkshakes from childhood. If adult me could go back and look at the ingredients list though I'd probably tell my child self to run screaming. Nothing scary in this bad boy.
Here's a video I made for my old vlogging channel where me and my kids enjoy it.
https://www.youtube.com/watch?v=lbkRfyHGGL0SaveSave
Healthy Chocolate Protein Smoothie/Milkshake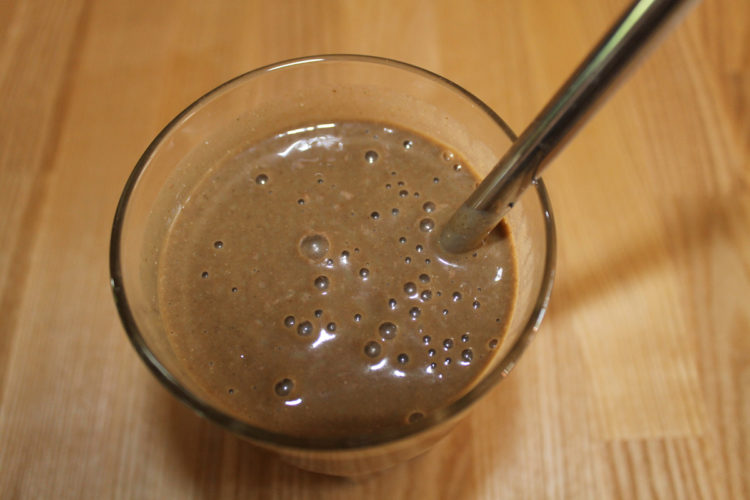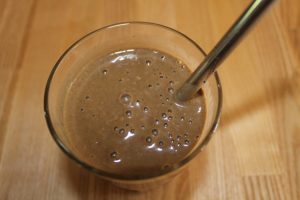 A thick, smooth, delicious chocolate protein smoothie reminiscent of the thick chocolate milkshakes from childhood.
Prep Time

10 min

Total Time

10 min
Ingredients
1 Scoop (25g) Nuzest Chocolate or Vanilla Protein Powder
1 Tsp Nuzest Good Green Stuff
Bonus extras: Chia seeds, goji berries, acai powder, probiotic powder, greens powder, kefir.
Instructions
1
Blend until smooth and drink straight away – enjoy!