These chocolate protein balls are amazing and so versatile.  You can pretty much add whatever you have in the house to make them, just keep adding dry ingredients to the wet date mixture until it's firm enough to roll into balls. They are vegan and paleo and can be fully raw if all raw ingredients used.
I think of them as ball versions of Nakd bars and we do usually call them 'Naked balls' but I thought for the sake of the blog I would give them a more serious name!
Recipe Top Tips
If you can't get your date mixture blending well, add a little bit of the water but be careful not to add too much. You will probably have to compensate by adding more dry ingredients but that's OK.  The excess water from soaking makes excellent porridge! The reason I recommend filtered water is because not only is it better for you but the balls last longer.
Ingredients for Chocolate Protein Energy Balls
In the UK it's easier to find ground nuts or nut fines so I use those but I'm sure nut flour would work equally well, you might want to add a bit less than stated and see how the mixture forms.  This isn't an exact recipe, as long as you can make the mixture into balls it's all good.
I think almond is the best for texture as it's the softest and finest but I love the taste of hazelnut, pecan etc. so it's nice to vary it.
Coconut flour without sulphites is best but the affordable stuff all has sulphites, it's how they keep it white. So it's up to you.
I use Nuzest pea protein powder, I used to buy the chocolate but now just use vanilla and add cacao if I want it chocolately. If I'm making something chocolate based there's usually cacao going in anyway and there isn't a lot of cocoa in the protein powder.
These chocolate protein balls have a lovely fudgy texture to bite into and feel like a real treat but are actually very healthy.
SaveSave
SaveSave
SaveSave
SaveSave
SaveSave
SaveSave
SaveSave
SaveSave
SaveSave
SaveSave
SaveSave
Chocolate Protein Energy Balls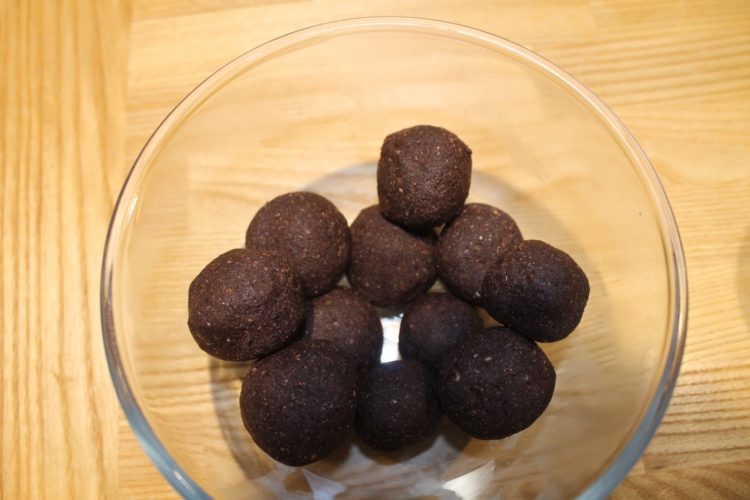 A sweet treat with a punch of protein – excellent workout fuel
Prep Time

15 min

Total Time

1 hr 15 min
Ingredients
2 Cups (250g) Dates Soaked in filtered water for an hour
20 Grams Goji Berries Optional
1 Cup Ground Nuts/Nut Fines/Nut Flour I have used ground almonds, hazelnuts, walnuts and pecans for these and they all come out great
1 Scoop (25g) Chocolate or Vanilla Protein Powder
1/2 Cup Cacao/Cocoa Powder
Instructions
1
Soak the Dates and goji berries if using in 1 cup of filtered water for an hour.
2
Blend the dates and goji berries until smooth then add to a mixing bowl with rest of the ingredients.
3
The mixture needs to be firm enough to roll into balls so add more dry mixture if it's too wet. Mix then form into 12 balls and chill. Stick in the fridge and enjoy! Yum.