I had to make this healthy fudge my first recipe as it's my absolute favourite. It's totally adaptable – you can decide what extras to add in and the quantities can differ hugely and it always comes out perfect.  Sometimes I don't even bother to weigh. I just chuck a load of stuff in a pan, melt, stir, pour then chuck in my chunky bits to add texture. It's vegan, paleo, keto/low carb friendly and no bake.
This makes a decent sized batch you can keep in a couple of jars in the fridge.  I pour it into a silicone brownie tray, then once it's cooled in the fridge I turn it out onto a chopping board and cut into little pieces.  This is when you get to taste test your amazing creation… and try not to eat it all…
How to Make Healthy Cashew Butter Fudge
Cashew Butter
I use smooth cashew butter to make this healthy fudge.  Of course, you could use any nut butter you have to had, and if using a crunchy butter you could omit the chopped nuts.
Chocolate
For the chocolate, I make it differently every time.  I most often use Vivani 92% which is sweetened only with coconut sugar.  Or sometimes I use half of that with half of the Waitrose coconut chocolate (that is sweetened with coconut sugar and has coconut milk) or Ombar Coco Mylk.  These two options give it a more 'milk chocolate' style taste.  If you're also adding dried fruit (I often add dried blueberries or currants) that's plenty of sweetness.
I would recommend adding the chocolate slowly until your desired colour/taste is achieved. It really is so different depending on what chocolate you use.  For example, if I'm using 92% dark, I'll use much less than 200g.
I have recently bought some raspberry powder so I'm excited to try some of that in my next batch. I'll report back.
I've estimated the calories, as it depends what quantities and products you are using.
Healthy Chocolate Cashew Fudge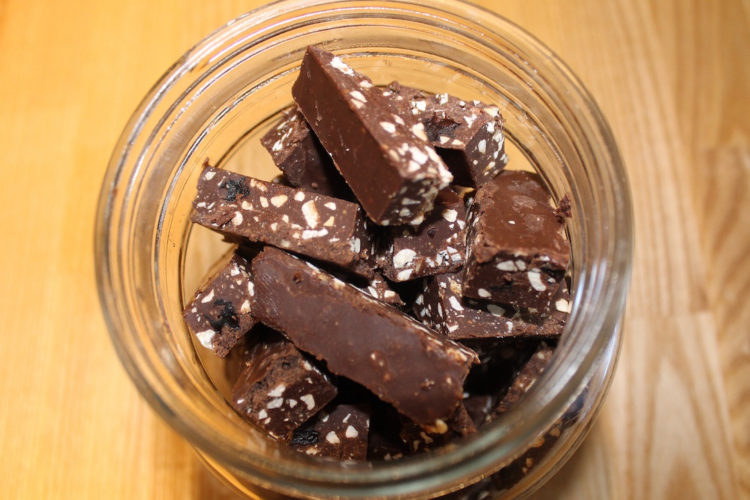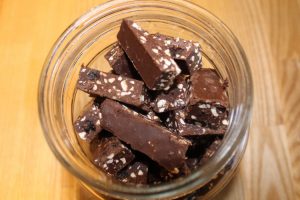 A healthy, satisfying, low carb chocolate treat.
Prep Time

10 min

Total Time

1 hr 10 min
Ingredients
170-200 g Chocolate (I use 92% Vivani coconut sugar sweetened)
100 g chopped roasted hazelnuts optional
1 Handful Dried fruit (blueberries, currants etc.) optional
1 Handful Dessicated Coconut To top – optional
Instructions
1
Add all required ingredients to a saucepan, keep stirring on low and DO NOT LEAVE IT or it will burn. You could use a bain marie to be more careful but if attended to a normal saucepan is fine. It doesn't take long to all melt down.
2
Turn off the heat then add any the roasted chopped hazelnuts and/or a handful of dried berries (dried blueberries are great), give it a good stir then pour into a silicone tray and top with the dessicated coconut. Then place in the fridge until solid. Turn out onto a chopping board and chop into bite size pieces.
3
Store in a glass jar in the fridge, it's too melty at room temperature. Will keep in the fridge indefinitely. My neighbour and I have had it in the fridge for months and it's been absolutely fine.
Notes
26 servings at 25g (around 3 pieces the way I cut them), 129 calories per serving.
Please comment below and let us know how you got on and what exciting variations you tried!
Alternatively, if you don't want to make your own, why not try a Treat Trunk Snack Subscription Box and we'll post you a selection of healthy treats every month!